hosts a vintage sale twice a year in the Twin Cities. I've attended in years past as a shopper. Last weekend, as a vendor to show a selection of vintage yard goods I sell at Miller Upholstering and to invite people to visit the shop on East Lake St.
We load in and begin set up.
Soon enough we've created a little mock-up of the storefront at 3614 E. Lake St. In Minneapolis...
Fellow vendors are also ready well before doors open early for pre-sale shoppers. This is
from Minnetonka...
Some ladies with fantastic antique hats and footwear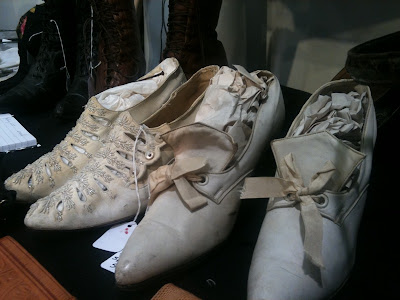 As a dedicated follower of fashion, this season's runway shows haven't offered much to me in the way of inspiration in women's wear - just not seeing anything that really grabs me. But what I find most exciting is the growing awareness locally in fashion and accessories for men. Not in years has individual expression in men's dress and grooming been so accessible, attractive, wearable - and i suppose socially acceptable, but this would require a lengthy socio-political post on why this is happening. But it's nice to see the influence and integration of a "vintage philosophy"; quality materials, excellent and personal service in retail and online environments, and a variety of unique design. The same is being said about (slow)food, (independently produced/fringe)music and entertainment, (slow)clothes... (slow)government ... Well, that doesn't ring as well, probably need a different word for the much-in-demand movement for a people's democracy as opposed to a multinational corporation-run world of manipulating big box capitalism run amuck. The awareness is happening everywhere though and lots of people we talked to during the show said the same - people are wanting to talk about it - but I'll say more later on all that - or not! More pics, please, of the show...
My vote for Best In Show - vintage wingtips, boots and brogues reworked by Zen The Freshmaker forGreenwich Vintage.
A professional cobbler, here he's resoled the classic styled shoe and sewn in Pendleton plaid.
This is so Andrew Martin to me, which I love and find inspiration for interior applications. When Greenwich Vtg Ltd makes a bricks and mortar presence, Miller Upholstering will be a strong supporter - I'm already a huge fan.
Next, I loved Nancy Adomeit's vast collection of cuff links and necktie barclasps.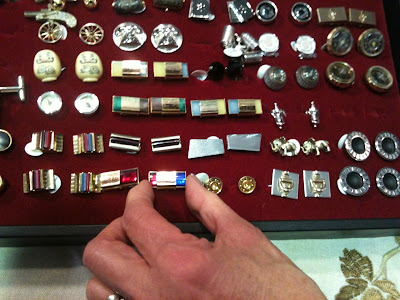 ...as many others did. Minneapolis' own The Missing Link is also supplier to the fine and popular Martin Patrick 3, so if you missed the show, you can select something fabulous at this carefully curated store in the warehouse district.
Even better than the collections of vintage clothing, textiles and jewelry were the stylish and creative shoppers...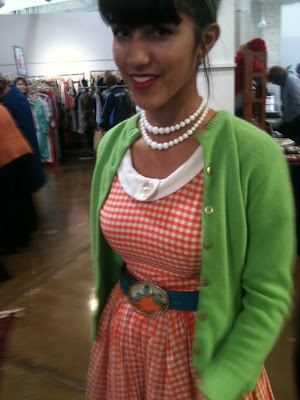 Baskets full of vintage fabric - just the tip of the iceberg of the collection held by LulaVintage and for sale at Miller Upholstering.
A shopper stops to talk textiles with Rhesa Schwartz of RagsAndHollers on etsy, who also sells her vintage fabrics at Miller Upholstering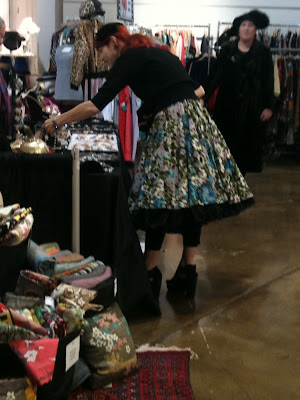 Good friends who shop together ...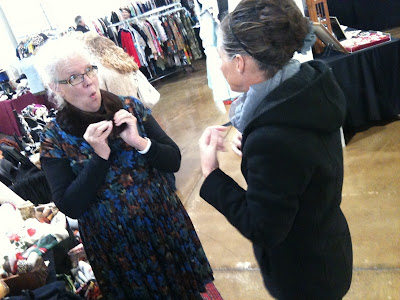 And finally the show was over, we pack up and return to our shop in the Longfellow neighborhood of East Lake St.
Where you can always find vintage and new fabric for your DIY projects or custom interior orders!
Posted using BlogPress from iPhone
Location: Mpls/St. Paul